Ingredients
2 (White or Brown)

Large eggs

1 Small or Medium size Minced

Onion

5 Stalks Chopped

Green Onions

80 grams

Cheddar Cheese

The secret ingredient

1/2 teaspoon

Ground Black Pepper
Directions
Guilt free food does not mean it should taste bad. My recipe for this delectable vegetarian burger patties are packed with an array of healthy ingredients! Main star would be the eggplant, a very versatile ingredient that has a unique flavor. Deliciously savory, this dish can be eaten with rice, burger buns, sandwich bread, or even ala carte! By the way, I was able to make 12 patties with this recipe.
This serves:
6 People: If with rice, 2 patties per plate.
12 People: If eaten sandwich/burger style.
Here's how the ingredients should be prepared:
Eggplant sliced into 3 parts. Wound the skin vertically so that it is easy to peel it once boiled.
Mince the garlic (you can use food processor)
Mince the onion (you can use food processor)
Chop green onions
Grate cheddar cheese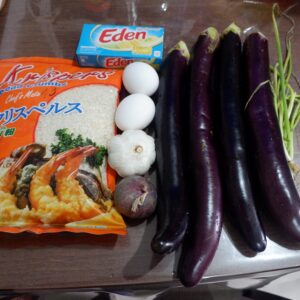 Steps
Boil water for 5 minutes then add-in the eggplant for 15 minutes.
Drain them and let it cool for 5 to 10 minutes.

Put mashed and chopped eggplant into a mixing bowl.
Add in the Garlic, Onions, Chives, Black Pepper, Cheese, and Salt Mix them thoroughly.

Add in the flour, breadcrumbs, and 2 eggs then mix again. Make sure it is equally mixed.
These 3 ingredients will serve as a binder. You will want to get a sticky consistency which is not too dry.

Note:
If the mixture is too wet, which happens if eggplant have not been drained well, you can try adding some more flour or breadcrumbs.

At this point, you will have your mixture ready for cooking.
Pre-heat the your pan using 120 degrees celsius. for 3 minutes.

Cook each side for 3 minutes or until golden / dark brown.
It will start to look like a real burger.

The time for cooking the full patty mixture will be based on the size of your pan. I used a WOK where I was able to cook three (3) patties per batch.