Updating your Profile
Anyone can register for FREE! You can also directly login using your Facebook or Google account.
Having a profile at FlavorFriend will allow you to be visible by anyone curious enough to check who the users are. The list of users can be found at FORUMS > MEMBERS > LIST ALL MEMBERS.
Once logged-in you will automatically be redirected to your profile. You can also find the profile link on the top panel of the webpage:

or the menu panel on mobile view: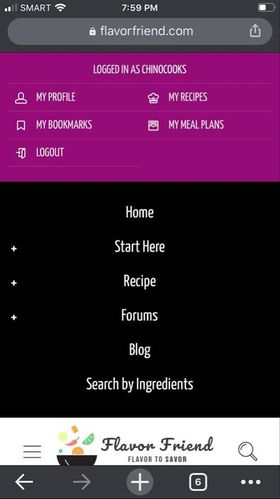 You can add various description about how you would like others to view you on your profile page. Including the following:
Profile Picture
Profile Verified Status
Biography
Role: (Subscriber, Contributor, Editor)
Your Name
Gender
Country
Your website (If Any)
Username / Display Name
Social Pages
Verified Status
Upon initially logging-in or registering, your role will automatically become "Subscriber". This role is able to Submit Recipes and participate in the Forums.
However, if you want to participate even more and become a guest blogger, you can actually request for account verification, which will be reviewed by a FlavorFriend administrator.
Having a "Verified" status, will allow you to post BLOG content or articles duly approved from FlavorFriend admins as well. Directions on how to post blog-content will be provided automatically to your email once Verified.