Ingredients
1/2 teaspoon or to taste

Iodized Salt

1/4 teaspoon

Ground Black Pepper
Directions
This Stir Fry Vegetable recipe is a quick and fresh concoction of some of the most healthiest vegetables you can find in the market. Easy to cook best served with rice!
How to prepare:
Cut Cauliflower into florets
Cut Broccoli into florets
Chop Broccoli Stalk horizontally
Chop Carrots into Strips or Circles. Baby carrots also recommended.
Chop half a Cabbage – your preferred size
Mince Garlic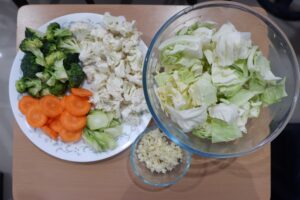 Steps
First you need to blanch the vegetables that takes more time to cook. Add a tablespoon of oil and a tablespoon of salt to your pot filled with 1.5 to 2 liters of water.

Once you bring your pot to a boil.
Add the following in order 10 seconds interval:
1. Carrot
2. chopped Broccoli Stalks
3. Cauliflower florets
4. Broccoli florets.

Let it boil for 2 minutes. Then Drain and set aside.